December 2019: Volume 1, Issue 3
NOW ACCEPTING APPLICATIONS
FOR MEMBERSHIP
With Founding Memberships complete, 100 Memberships are currently being offered for The Club. The initiation fee is $150,000 with dues of $35,000 per year. If you would like to be considered for membership, please complete the application below.
THE LATEST NEWS AND PROGRESS UPDATES FROM THE CONCOURS CLUB
TCC SPOTLIGHT:
BRAD KILGORE
MEET THE CLUB'S
CULINARY DIRECTOR
To develop the food and beverage program, The Concours Club enlisted the absolute best, Brad Kilgore. Brad, a James Beard nominee and Food and Wine Magazine's 2016 "Best New Chef", is the genius behind some of Miami's hottest restaurants including Alter, Ember and Kaido.

Trackside dining at The Concours Club will provide an unparalleled experience. Brad's new restaurant concept will open with The Club next year as a private venue available only to members and their guests.
"I am blown away with this amazing project and I could not be more excited to be Culinary Director for The Concours Club. Designing culinary options that fully represent the excitement and action of The Concours Club, while seamlessly folding in the bold tastes of Miami is a unique experiment. After exploring a variety of flavors and menu options, I am looking forward to presenting what we have come up with for members."

- The Concours Club Culinary Director, Brad Kilgore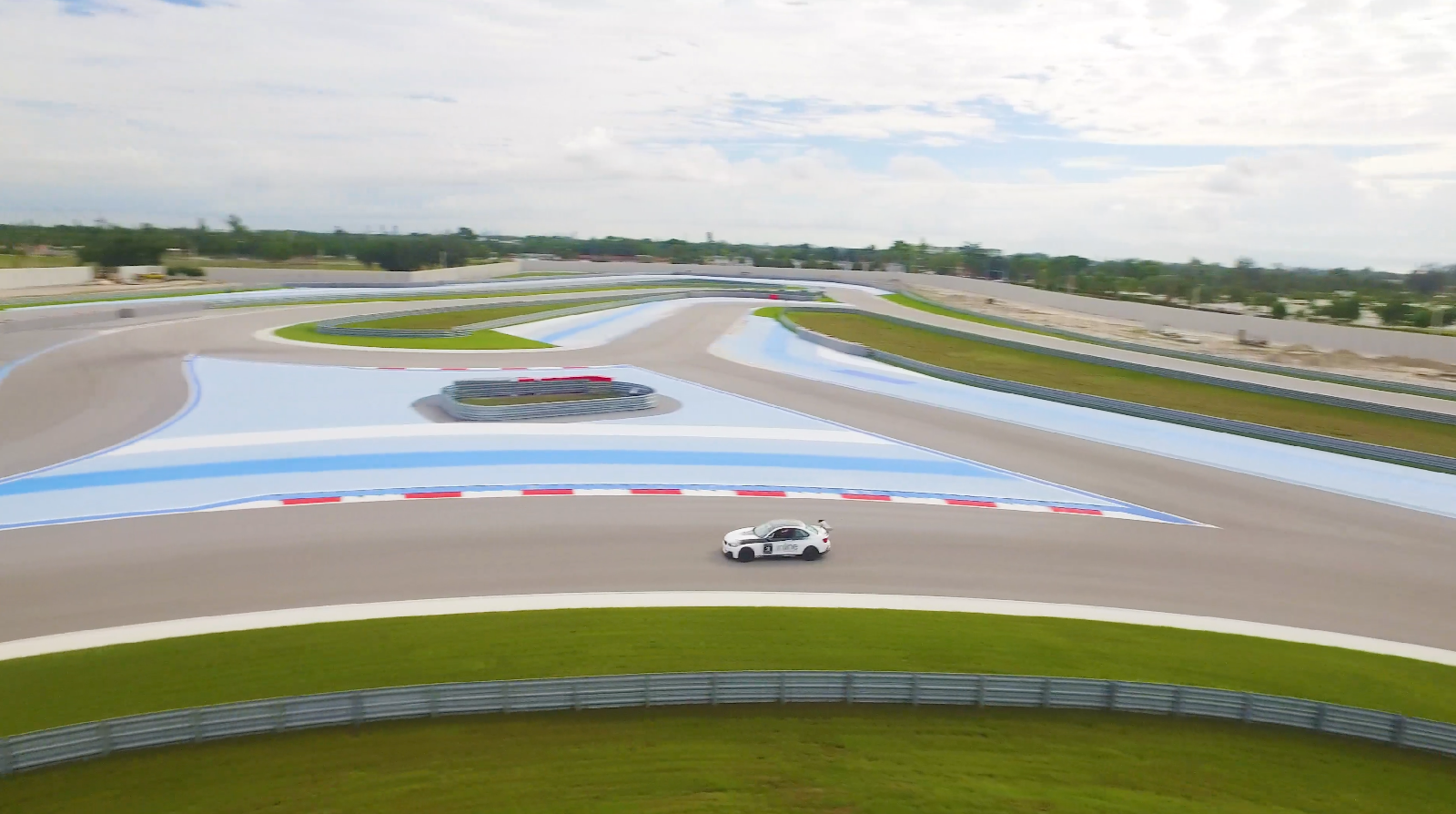 CONSTRUCTION
PROGRESS UPDATES
All fuel station tanks were installed and the structure is currently under construction.
High friction run-off paint is being finalized.
Vehicle storage lift installation is underway and will be completed by end of year.
Geobrugg catch fence system is fully installed.
Site-wide power is on and the paddock lights are completely operational.
Electronic flag panels, cameras and timing and scoring loops are fully functional.
FIRST-OF-ITS-KIND
TRACKSIDE COMFORT STATION
The Concours Club is offering an industry-first, benchmark-raising, trackside comfort station featuring a drivers lounge. Members and their guests will enjoy concierge services including cold towel service and food and beverage steps away from the on-track action.
THE CONCOURS CLUB REVOLUTIONIZES TRACK SAFETY
The Concours Club circuit will be cutting-edge and utilize digital marshaling systems such as closed circuit cameras with electronic flag panels and integrated timing loops. With a highly-trained and experienced staff on hand, the course will incorporate a predictive flagging system designed to rapidly and accurately notify drivers of any changing track conditions. These state-of-the-art systems have been designed and built by RaceTrack Engineering, regarded as the leaders in motorsport technology.
The Concours Club was recently featured in an in-depth article from Forbes' automotive reporter, Mark Ewing.

Ewing spent time with The Concours Club's founder, Neil Gehani, and Founding Member, Helio Castroneves, to gather insight into the Club's early stages, reasoning behind the location within the Miami-Opa Locka Executive Airport and much more.
Forbes' exclusive first-look at The Concours Club also includes some of the innovative technology utilized on the course. From the in-car GPX Stream system to the high definition cameras that adorn the circuit, The Concours Club truly incorporates "the sum of all wisdom for a road course."

A prime location in the heart of Miami, coupled with the most advanced technology, The Concours Club will impress car enthusiasts for years to come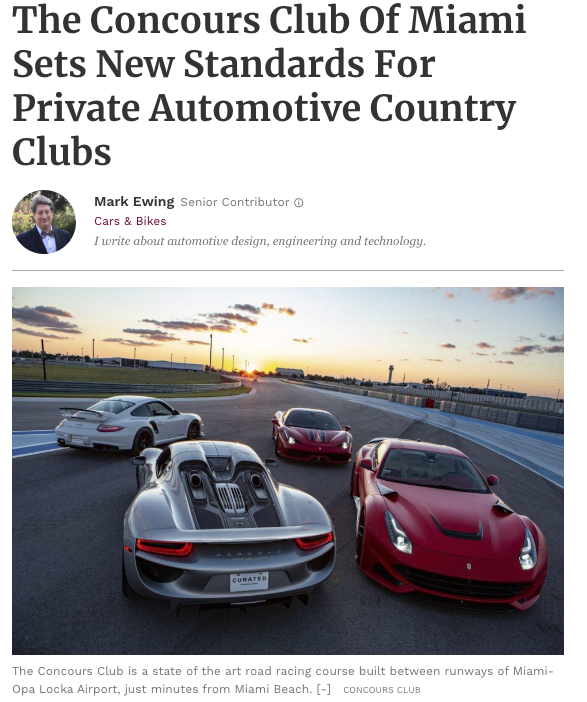 The 2019 Ferrari Challenge season concluded at the Finali Mondiali this past October in Mugello, Italy. A special congratulations to our Founding Members who participated in the race weekend which attracted over 20,000 spectators from around the world. Dave Musial finished the championship 3rd in his class, Jay Schreibman won the North American Gentlemen's Cup while Mark Issa and TCC Founder Neil Gehani took home the championship in their respective classes.
RADICAL CUP NORTH AMERICA
Congratulations to Founding Member Eric Wagner and his Eastern Racing team for clinching both the Driver and Team championships in the 2019 Radical Cup North America. Eric piloted his 1340cc Radical SR3 to consistent top finishes throughout the season and capped his championship with a podium finish at the final round at COTA in Austin.
CLASSIC 24-HOURS OF DAYTONA
Founding members Nelson Calle and Juan Pablo Martinez co-drove this gorgeous 1967 Porsche 911 in the grueling Classic 24 Hours of Daytona. This year's running was particularity difficult as it included multiple stints in the rain which is always a daunting condition on Daytona's high banks.
YOU HAVE QUESTIONS,
WE HAVE ANSWERS
When is the grand opening of
The Concours Club?
What will the real estate offerings be?
The grand opening of The Concours Club will take place in 2020.
We will offer a wide range of options to our members including storage and garages, which can be customized. These will range in size from 2,000 square feet to more than 8,000 square feet.
What facilities will be available upon opening?
How many memberships are still available?
Upon opening, the Club will include the approximately 2-mile-long driving circuit and 28,000+ square feet of facilities including Guardhouse, Concours One building and Fuel Station. We will also launch with the first-of-its-kind trackside Comfort Station.
The Concours One building will host the Membership Gallery, Member's Lounge, Tuning Shops operated by HP Tech Motorsport, Maintenance Facility, Automotive Storage and Automotive Detailing.
With Founding Memberships complete, the Club is now accepting applications for 100 Memberships. Referrals from Founding Members will have priority review.
Will there be car storage available upon opening?
The Founding Members will have access to car storage when the club opens, with multiple real estate offerings coming online shortly after opening.
When will real estate offerings be available?
The development of these offerings is in progress and should be announced later this year. The Founding Members will have first priority on real estate per their Founding Member benefits. Stay tuned for more!