VOLUME 3 | ISSUE 1 | MARCH 2021
Pre-opening memberships have concluded. If you are interested in becoming a member please complete the application below to join the waitlist. We will be in contact after the Club's official opening.

THE LATEST NEWS AND PROGRESS UPDATES FROM THE CONCOURS CLUB
TCC SPOTLIGHT:

UNPARALLELED INDUSTRY TALENT



Developing the skills, focus and confidence to pilot a racecar is no easy task. It demands that you become a student of the sport. The Concours Club's Driver Instruction Program provides expert guidance, encouragement, and support for drivers of all levels and sets a new standard for automotive country clubs worldwide. Members enjoy individualized instruction using bleeding-edge technology to help develop mental and physical abilities, and improve performance. Meet our instructors below.
Pictured (Left to Right): Robert La Rocca, Oswaldo Negri, Rod MacLeod, Paulo Carcasci
Originally from Scotland, former McLaren F1 mechanic turned successful racer, Rod MacLeod has coached some of the racing world's most legendary drivers. These include Sergio Perez, Felipe Nasr, and Alexander Rossi who all made it to F1. In addition, Rod coached Josef Newgarden, who won a pair of Indycar Championships.
Eduardo Marques, from Brazil, brings a fresh perspective to our coaching team. His career began racing GT cars. He's a former X Games athlete and was a lead driver for the "Lights, Motors, Action!" stunt show at Disney's Hollywood Studios. Eduardo has also stunt driven in several Hollywood productions.
American Bruce McQuiston began his career on two wheels winning his first ever pro motorcycle race before entering the Formula Ford ranks. As Bruce's career progressed, he competed in Formula Atlantic, Pro Atlantic and then entered races in various IMSA series. Coaching since the 80's, including stints at Bertil Roos and Skip Barber, Bruce has guided hundreds of drivers. Bruce was a pioneer founding Racer's Country Club, the first country club for karting. It was located in Opa-locka just miles from TCC.
Brazilian racing veteran Oswaldo Negri Jr. has more than three decades of experience. Over the course of his career, he's won the Brazilian Formula Three Championship, the 2016 Petit Le Mans and the 2012 Rolex 24 Hours At Daytona, where he twice was on pole position. He has competed twice at the historic 24 Hours of Le Mans, finishing top 10 in both outings.
Jeff Segal is a Championship-winning American racecar driver currently competing in the European Le Mans Series. Jeff is the only driver in history to win the prestigious 24-Hours of Le Mans, 24-Hours of Daytona, and 12-Hours of Sebring all while driving a Ferrari. Jeff is also the founder of GPX Driver Development Lab, a motorsports-based technology group, focused on computerized simulation solutions and vehicle & driver analytics. Jeff is also a partner in GPX Stream, featured in the 'Cutting Edge Technology' section of this newsletter.
UK born Alex Waters began his career karting. He then moved up to Formula Ford where he collected a 'Rookie of the Year' award. Alex climbed the ladder to F3 where he competed for several years but ultimately ran out of budget and switched his focus to coaching. He achieved a coveted UK coaching certification and worked at the Silverstone Motorsports Academy. Alex is also a Mechanical Engineer and wingsuit pilot.
LISTED IN ALPHABETICAL ORDER NOT BY PERFORMANCE
Miami native, Jon Branam, was hired as a factory driver by a major Italian kart manufacturer at 14. He climbed the ladder competing in a prominent open wheel feeder series until running short of sponsorship funds. Jon is a member of the Screen Actors Guild and has appeared in multiple commercials and movies. Jon also served as a lead driver at Walt Disney World's Lights Camera Action! stunt show in Orlando. Jon is an instructor and coach for the Ferrari Corso Pilota and Challenge Series and a professional spotter in IMSA.
Before he was a well-known TV personality, Brazilian Paulo Carcasci won the 1985 European FF 1600 Championship, 1985 FF European Championship, 1988 BBC F2000 Championship and 1991 All Japan Formula Three Championship. In 1989, he took home a British Formula 3000 Gold Cup at Oulton Park.
American Robby Foley is an experienced driver, coach and student. His credits include 8 IMSA wins highlighted by the 2019 Petit Le Mans where he also finished 2nd in the championship. He also took home a title in 2020 – the Pirelli GT4 America SprintX championship scoring 6 wins and 8 podiums.
Pierre Kleinubing, who hails from Brazil, won three Brazilian karting championships before moving to the United States where he has become a decorated touring car racer and six-time champion. He has accumulated five SpeedVision World Challenge Championships as well as an IMSA Continental Tire SportsCar Challenge Championship.
Venezuelan/American Robert La Rocca has an extensive open wheel background including a championship in the F2000 Series, where he set multiple track records that still stand. Robert raced in Europe with Formula 3, GP3, and Auto GP. He also has vast coaching experience from trackside coaching to online simulator coaching, and works with both novice to experienced drivers.
CIRCUIT NOW OPEN TO MEMBERS
Private orientations commenced in January, giving members and their families the perfect excuse to escape the cold or quarantine. Each Member was paired with a professional instructor and their individual orientation program was tailored to their skill and experience level. Members and their families had a chance to familiarize themselves with the circuit, review rules and regulations, and of course, enjoy some laps.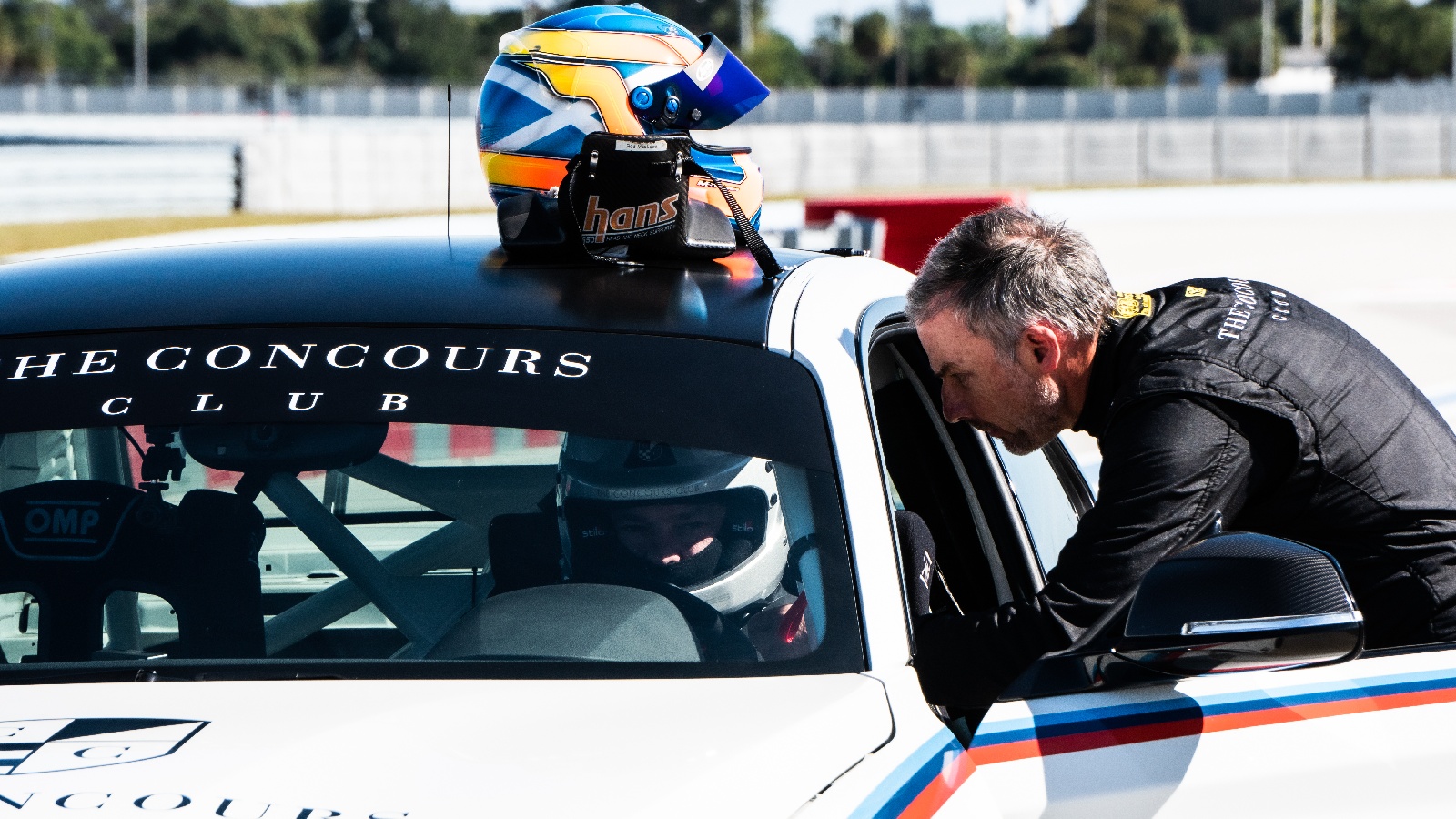 The Concours Club construction is progressing at a rapid pace and we are close to announcing the date of our full opening. The Concours One building's various bays are ready, Brad Kilgore's kitchen is complete, and the Member's Lounge is in its final stages. The main member entry awaits the final landscaping.
The circuit-side Paddock Lounge and the solar-powered canopy will finish construction in the next couple of weeks. Stay tuned for more updates as we enter this exciting phase.
GPX LIVE CAMERA STREAMING
The Concours Club is now the only motorsport facility to offer GPX Stream's Live Camera System in all of our fleet cars. Designed by championship-winning racer, Jeff Segal, this advanced coaching system is superior to right-seat instruction. Rather than riding inside the car, coaches now monitor live cameras and telemetry to provide drivers with real-time remote feedback.
"Jeff Segal's GPX Stream is nothing short of a complete game-changer. This tool, in the hands of a top-tier driving instructor, takes data and video that was previously used as a historical review and makes it real-time. Instead of an instructor reviewing driving errors from a previous session, they can now see and correct errors as they occur.
Utilizing the Live Camera System, we have already seen a compression of learning curve and many of our inexperienced members are getting up to pace on an incredibly short and previously unimaginable timeline.

In addition to speeding the learning process, removing instructors from the passenger seat creates a safer working environment making it easier for us to recruit and retain the finest driving instructors in the world. Our members also appreciate the ability to get professional real-time feedback."
-President of The Concours Club, Aaron Weiss
Watch GPX's Live Camera Streaming System as Concours Club instructor, Pierre Kleinubing, pushes our BMW M2 CS Racing car around the circuit.
Helio Castroneves put the newest addition to the Club's fleet, the BMW M2 CS Racing, to the test. The M2CSR offers an unparalleled driving experience for all levels of ability. The factory-built racer is an ideal car for the circuit and the adjustable power level is perfect for both new or experienced drivers. The BMW M2CSR will be the platform for our member-only spec racing series. As of today, eight members have purchased TCC-spec'd M2CSR cars from our allocation. Once we reach 10 entrants, we will begin our spec series.
What do you think of the M2CS overall?
I was very fortunate to drive the M2CSR at The Concours Club. The car's basic handling was really good, right out of the box, this is a proper racecar. My biggest surprise was to find that it has air conditioning. This will really help in South Florida.
I thought the AC would cost performance, but I was able to do the same lap times with it on and off. The M2's performance was really impressive. In terms of balance, it wasn't scary, I've driven very scary racecars before, this was incredibly forgiving and a lot of fun.
Do you think it's a good car for someone with your experience as well as a rookie?
It is a great platform for any driver, experienced or inexperienced. The basic setup is pretty comfortable but still challenging at the same time. For you to get the lap time when you have experience, is still very tough but it's not that hard for somebody that doesn't have the experience to reach a respectable lap time. It's a great platform for a beginners and experienced drivers and will provide for some great races.
What is your favorite thing about the M2 CS Racing?
One of the things that I felt and thought was very impressive was the traction control. It was smooth. I spent three years in IMSA with Acura DPI and I know when the traction control is on and when the traction is off. And I'll tell you what, I was able to drive with it on and off and the car drove really, really well either way. I cant find any negatives about this car. It's reliable, which is critical when you want to drive every day or just come here, start the engine and go. This is the perfect car for country club use. It has the dynamics of a race car, but the forgiveness and comfort of a road car.
We collected a tremendous amount of data during member orientations. Congratulations to Michael Dinan on setting fastest lap!

We also measure a driver's consistency by averaging the 10 fastest laps. In this category, Mark Issa led the field with fastest 10-lap average as well as the ultra low lap time variance of .18%. Watch the video as Issa shares his thoughts on the M2CSR and the Member Racing Series.
In the spirit of merging driver safety with the very best in luxury and design, The Concours Club has chosen Sabelt as a key supplier. Members will enjoy custom racing gear made by Italy's leading manufacturer of automotive safety equipment.
Limited to only 800 units, the Lamborghini SVJ (Superveloce Jota) features a naturally aspirated 6.5-liter V-12 produces 759 bhp. This Italian masterpiece is not only visually-striking, but also one of the fastest street-legal cars to ever lap Nordschleife, coming in at 6:44.97.
Owner and Founding Member: Anthony Lopez
Beginning with a 1988 Porsche 911, Straat Motors transformed this Porsche into a rally racer ready for Paris Dakar. The build features an upgraded suspension, off-road tires, roll bar, brush guard, winch, and roof rack with off-road lighting. The interior maintains street car comfort including heated and ventilated Recaro seats and air conditioning. It is powered by a Euro-spec 3.2L flat 6.
Manufactured by Founding Member: Nelson Calle
There is Porsche customization, and then there is Singer. Car designer, Rob Dickinson, transforms vintage 911s into one-of-a-kind, air-cooled works of art. This example is called "Telluride." We were thrilled to see this rare beauty out on the circuit. President, Aaron Weiss' opinion is that this is "the world's most perfect car."
Owner and Founding Member: Julio Cantillo
The McLaren 600LT is a quick convertible, with a V8 producing 592HP and 0-60 in less than 3 seconds. This pure driving experience is classic McLaren, combining a true weapon on the track with an eye-catching supercar suitable for everyday driving.
Owner and Founding Member: Jay Schriebman
The all-new 05RR, from Mexican auto manufacturer Vuhl, is an aluminum monocoque and carbon fiber bodied open cockpit street and track car. Powered by a 400-hp, four-cylinder EcoBoost engine, the 05RR sprint to 60 in 2.7 seconds on its way to a top speed or 170MPH. @VuhlAutomotive
Owner and Founding Member: Rogelio Perusquia
Porsche's newest customer racer, the Cayman GT4 Clubsport MR, may be the most ideal track-focused platform available. Featuring a mid-mounted 425HP flat 6, the GT4 Clubsport is ideally balanced and perfect for the technical challenges of The Concours Club's circuit. We are aware of at least five members who have recently purchased these vehicles and anticipate their entrance into our open class member race group.
Owner and Founding Member: Tommy Cabrerizo
The Bugatti Chiron is a modern automotive masterpiece. With a quad-turbocharged 1500HP W16 engine, the Chiron achieves 0-60mph in 2.3 seconds and has a ludicrous top speed of 261MPH. This is as much art as transportation.
Owner and Founding Member: JC Correa
The Annual Miami Concours, hosted by Curated, took place in February at the Miami Design District. In an effort to host a socially-distanced event, a new format highlighted 30 of the most significant post-war cars and hypercars "For the Love of Miami." These exceptional vehicles were distributed throughout the Design District, including The Concours Club's 2019 Ferrari Challenge North America Championship Winning 488 Challenge and the rare Porsche 911 Speedster. The Concours Club is a proud partner of Miami Concours.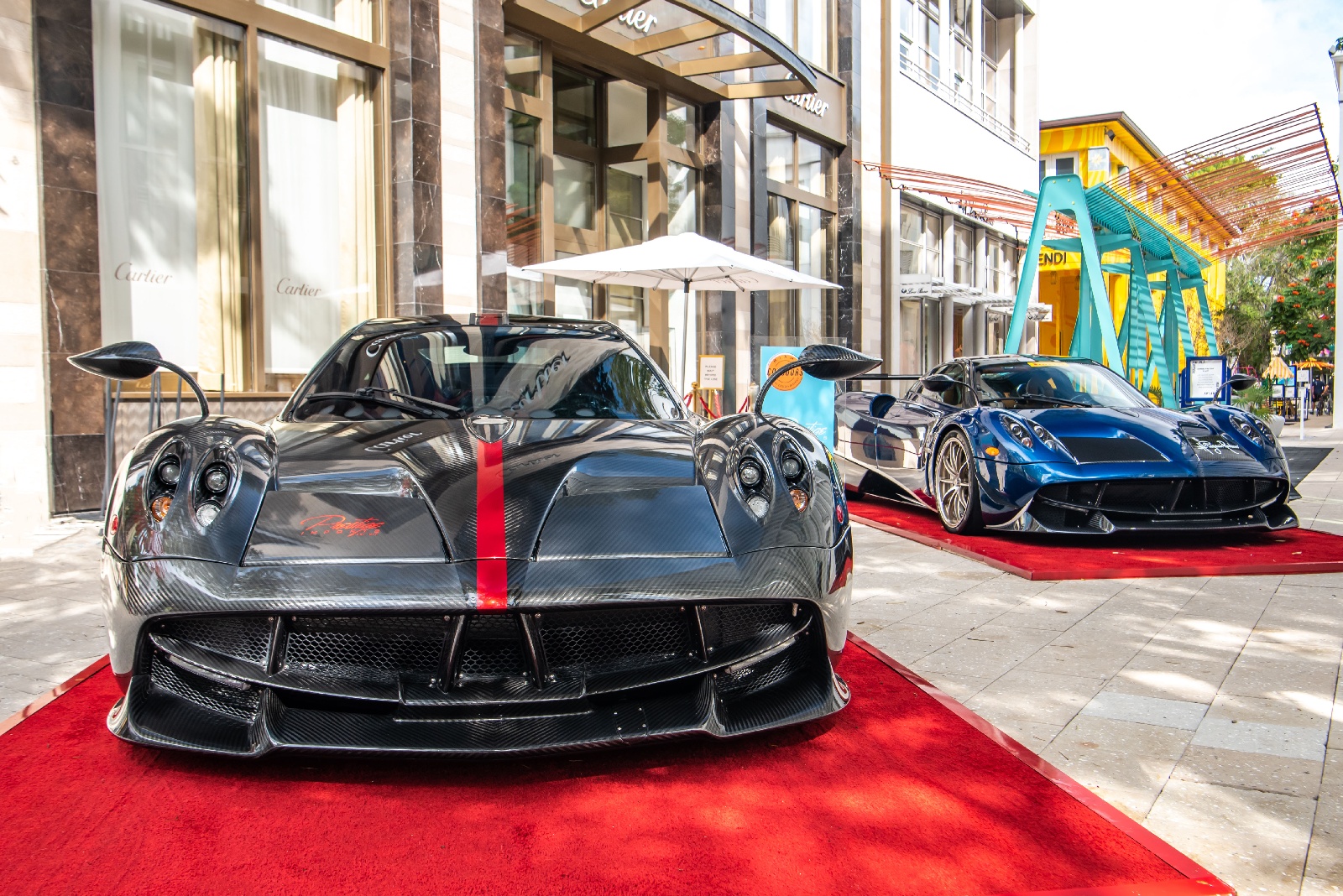 Event Partners:
Curated
Miami Design District
Prestige Imports
Photography by JGPV Speed
Photography by Maxel Pupo
As an Official Ferrari Challenge North America partner, we are looking forward to kicking off the 2021 season. Of our eight members competing in the series, five are competing under the banner of HP Tech Motorsport of Hallandale Beach. We wish the best of luck to our members in their quest for hardware.
Sureel Choksi #173 - Coppa Shell
Osvaldo Gaio #193 - Coppa Shell
Neil Gehani #36 - Trofeo Pirelli
Dave Musial #30 - Trofeo Pirelli
Dave Musial Jr. #130 - Coppa Shell
Jeff Nunberg #141 - Coppa Shell - AM
Jay Schreibman #163 - Trofeo Pirelli - AM
Charles Whittall #166 - Coppa Shell
Round 1 - Virginia International Raceway

March 24 – 28
Round 2 – Sonoma Raceway
April 28 – May 2
Round 3 – Watkins Glen International
May 19 – 23
Round 4 – Montreal – F1
Mid-June – 2021 TBC
Round 5 – Indianapolis Motor Speedway
July 14 – 18 TBC
Round 6 – Road America
September 8 - 12
Round 7 – Final Mondiali
Fall 2021
Journalist Jaclyn Trop previewed The Concours Club's circuit in February. Her experience revealed the excitement and freedom she felt behind the wheel as Concours Club professional instructor Rod MacLeod fueled her to improve her times.
Journalist and driver, Jeff Perez, preview the circuit with Oswaldo Negri and took some laps around the Club's circuit as a preview before the Club's official opening. Read about Jeff's intricate circuit description in the link below.


Founding Member and three-time Indy 500 Champion, Helio Castroneves, was part of the four-man team that won last month's Rolex 24 At Daytona. Along with his Wayne Taylor Racing teammates, Filipe Albuquerque, Alexander Rossi and Ricky Taylor, Castroneves helped clinch 1st place in the grueling endurance race by just 4.704 seconds.
With numerous awards to his credit already, Chef Brad Kilgore has now earned the 'Best Chef' nod from Miami New Times. The Concours Club is thrilled to have Chef Kilgore as our full-time Culinary Director, where he'll soon bring his celebrated cuisine to Members on a daily basis.
YOU HAVE QUESTIONS,
WE HAVE ANSWERS
When is the grand opening of The Concours Club?
This January marked the launch of Member orientations, private introductions to the circuit and facility ahead of our official opening. The Club's official opening is planned for early 2021 upon the completion of all of the Phase I facilities and amenities.
What facilities will be available upon opening?

Upon opening, the Club will include the approximately 2-mile-long driving circuit and 28,000+ square feet of facilities including Guardhouse, Concours One building and Fuel Station. We will also launch with the first-of-its-kind circuit-side Paddock Lounge.
The Concours One building will host the Member's Lounge, Verge Restaurant and Bar, Tuning Shops, Maintenance Facility, Automotive Storage and Automotive Detailing.

When will real estate offerings be available?
The development of these offerings is in progress and should be announced in the coming months. The Founding Members will have first priority on real estate per their Founding Member benefits.
What will the real estate offerings be?
The Club will offer a wide range of options to our members including storage and garages. These will range in size from approximately 3,000 square feet to more than 6,000 square feet.
How many memberships are still available?
Pre-opening memberships have concluded. If you are interested in becoming a member please complete the application in this link to join the waitlist. We will be in contact after the Club's official opening.
Will there be car storage available upon opening?
The Founding Members will have access to car storage when the Club opens, with multiple real estate offerings coming online shortly after opening.

MIAMI'S AUTOMOTIVE COUNTRY CLUB